FAQ
What are the signs of adultery?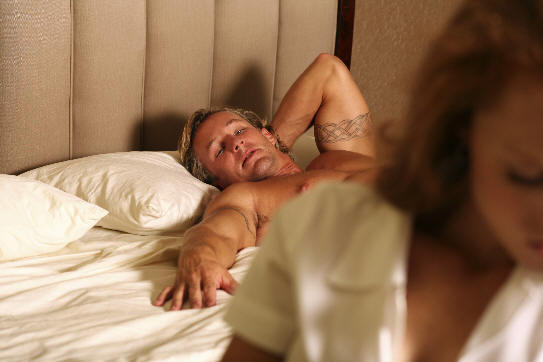 Sudden emotional disengagement

Buys flashy new underwear

Goes on out-of-town trips with male coworker

Unusual work hours

Accusative

Defensive

Recent attention to physical fitness and dress

Gut feeling that something isn't right

Statistically, if a man suspects his wife of adultery, he is right 50% of the time.
I did a PSA test, but the test line is just barely visible. Is this a positive test?
According to the literature, there is a 90% probability this is a true positive test. However, this is just academic and from a practical point of view, the test result should be regarded as inconclusive. This calls for further investigation, perhaps with a different method of surveillance--for example, covert video. In order to be certain that the stain contains semen, the test line must be equal or greater in intensity to the control line. This represents a 100% probability that the stain in fact contains semen. Representative results are shown below:
| | |
| --- | --- |
| | |
| Weak PSA test | Strong PSA test |
I did an AP test which came out POSITIVE, but the subsequent PSA test was NEGATIVE. Is this a positive test?
This test is presumptively positive for semen, but it doesn't prove it's semen, since the PSA test was negative. Therefore the test should be regarded as inconclusive. This test result sometimes happens in cases where there is only a trace of semen on the garment, and the AP test paper absorbs it all, leaving nothing for the PSA strip to detect. If you are suspicious that there is only a trace of semen there, then do the PSA test first. Using a Q-tip will allow an AP test to be performed after a PSA test. Keep in mind the AP test may be NEGATIVE even though the PSA test is strongly POSITIVE, because the PSA test is 1000x more sensitive than AP. PSA is the definitive test for semen, and the AP-PSA combination test is designed for strong semen stains, where both tests will be strongly positive.
How long can semen in stains be detected?
For years, but the long answer is: acid phosphatase (AP) can be detected in semen which has been discharged up to 17 hours after intercourse, and prostate specific antigen (PSA) for up to 36 hours. Once semen has been discharged, then its chemical components become stable for years. The explanation for this is that both AP and PSA are proteins, and must have a certain three-dimensional configuration to work. The vagina presents a hostile chemical environment however, and rapidly denatures seminal proteins in a fashion similar to egg whites when they are cooked. After discharge, the residual non-denatured proteins are no longer exposed to a hostile environment, and there is virtually no time limit for their detection. PSA actually has been detected in semen stains over 30 years old. Items tested more closely to the time of suspected intercourse give a more strongly positive test.
What does the shipping box look like?
Shipment is discreet in a generic, nondescript container. The return address likewise is nondescript. If we said more about it, then everyone would know, wouldn't they? The charge will show up on your credit card statement as "PAYPAL *PRIVAFONE."
How do I order?
You may order online using our PayPal shopping cart, by phone, or by sending a check to PrivaFone, Inc. using our contact information. Institutional customers may send a purchase order by email or fax.
How fast will it get here?
Standard shipping is by Priority Mail® (2-3 business days). U.S. customers may opt for Express Mail®, which takes 1-2 business days. International shipping is by Express Mail® International (3-5 business days) or Global Express Guaranteed® (1-3 business days). Global Express Guaranteed® is equivalent to FedEx, but at half the price.
What if I don't want my order shipped to my home?
U.S. customers may have their order sent to a FedEx Office and held for pick-up. To exercise this option, choose Express as your shipping option and input the address of the FedEx office as the shipping address in the PayPal shopping cart. Orders will be sent by FedEx 2nd Day Air, which often arrives the next day. To find the location of the FedEx Office nearest you, click here, and check the box labeled "Hold at location" on the right side of the screen.
How do I become a Dealer?
Do you have any new products on the horizon?
Zinc detection strips are moving into the manufacturing stage. They will be offered as an alternative to AP. Although not as sensitive as AP strips, zinc strips are more specific. Plus, they have that cool yellow color with bright pink spots upon exposure to semen:

Zinc Detection Strip
Can you translate the Instructions into another language?
Instructions are available in English, Portuguese, Spanish, Russian, French, German or Arabic. To request another language, contact us.